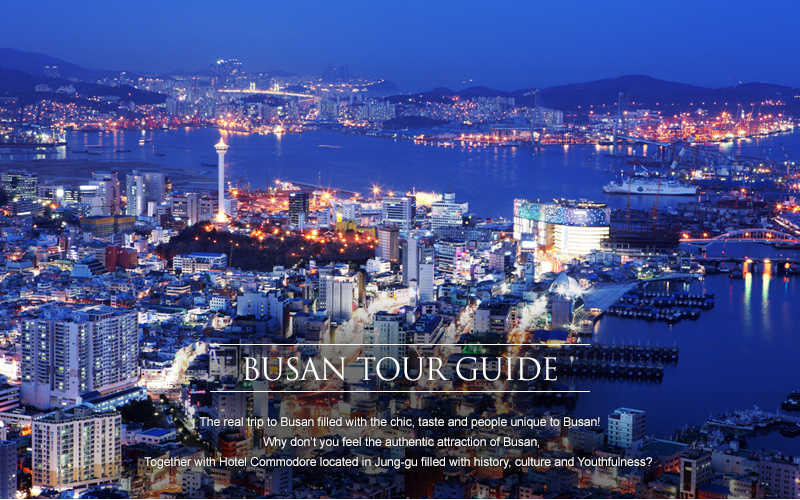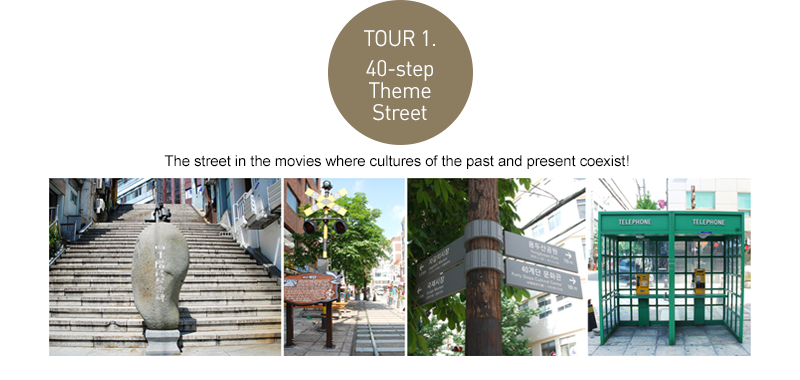 The old streets in Busan where hardships of refugee life are still remembered at the time of the Korean War, and the vestiges remaining nearby while cherishing history and memories as much as steps are at the very places even now.
After seeing the background which was shown in the movie titled " No need to show any mercy or something like that' and looking down the steps while sitting beside the statue of a person playing the accordion at the top of the steps, the bakery 'Baekgudang' which have been with the ordinary people for a long period of time since 1959, affectionate restaurants though their buildings are old, cafes serving tea at a lower price than a franchise café, and the one-time popular song "A young lady from Gyeongsan-do" seem to speak for the past and present of Busan.

Location Jungang –dong 3-ga, Jung-gu, Busan Metropolitan City
Things worthy to see 40-step Culture Center, Statue of a Mother's Heart, Statue of an Uncle of Puffed Maize, and Statue of a Person Playing the Accordion
Eatables Baekgudang Bakery, Daegung Chicken Soup with Ginseng 
The Busan Historium is the building which was established as a branch office of Dongyang Cheoksik Corporation during the Japanese Occupation, and it was used as the American Culture Center after Liberation, symbolizing the foreign power post-the Busan Modern Historium building, which was returned to ours in 1999; afterwards, it came to change into the modern historium for publicizing and educating our early modern history.
The displays in the 2-floor exhibition hall are arranged under the theme of 'From the Busan Port-Opening in early modern times to the period of Japanese Imperialism' and Busan as a modern city', making viewers easier to understand the earl modern history of Busan which suffered the turbulent period. In the 3rd exhibition hall, contents on Dongyang Cheoksik Corporation, and Korea-US Relations in modern times are well displayed so that even the children can make access to them with interest

Location 99, 2-ga, Daecheong-dong, Jung-gu, Busan Metropolitan City
Things worthy to see Permanent Exhibition Hall, Special Exhibition Hall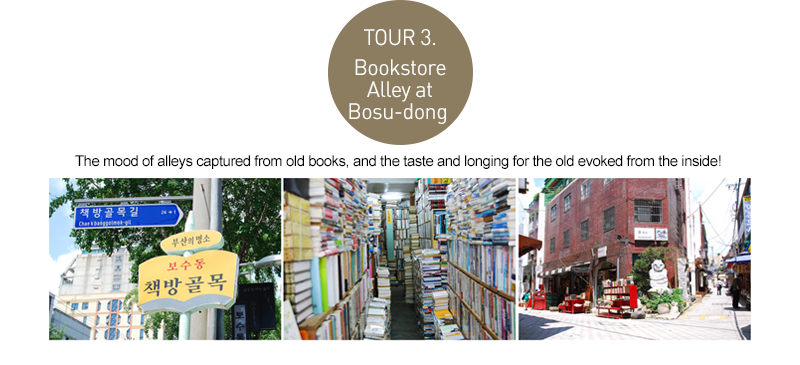 Unfamiliar foreign books, the book which was out of print, a reference book in which the note I took may left in, and a small alley where comic books whose titles stayed on top of their titles in our childhood, are gathered randomly- people can get much fun at the place fully permeated with vintage feelings while tracing our vague memory back by looking at the title of a comic book, and thus engaging ourselves in animated conversation even though we don't definitely buy a book. Most of the bookstores look small on the surface but their internal structure is complicated and deep like the joy given by classical literature; thus, looking around the store by going inside is a must. Let's feel the joy of suddenly discovering a book in the labyrinth of a book that cannot possibly be found in a common bookstore. It might not be bad to enjoy reading and composure to the fullest at a small café like paperback.
Location 119, 1-ga, Bosu-dong, Jung-gu, Busan Metropolitan City
Things worthy to see Old Bookstore, Calligraphy Atelier. Gallery, Bosu-dong Bookstore Alley Culture Center


A Korean restaurant, located at the end of the Bosu-dong Bookstore Alley, specializing in bibimbap having 50-year tradition- clean,
tidy side dishes, bibimpay covered with Korean-style raw beef garnished with ox-blood soup is really a paragon tasty enough to eat.
Baked Welsh-onion pancake(pajeon) with beef, and Korean-style raw beef are also the delicacy!

Location 77-6, 1-ga, Jung-gu, Busan Metropolitan City
Business Hour 12:00 ~ 21:30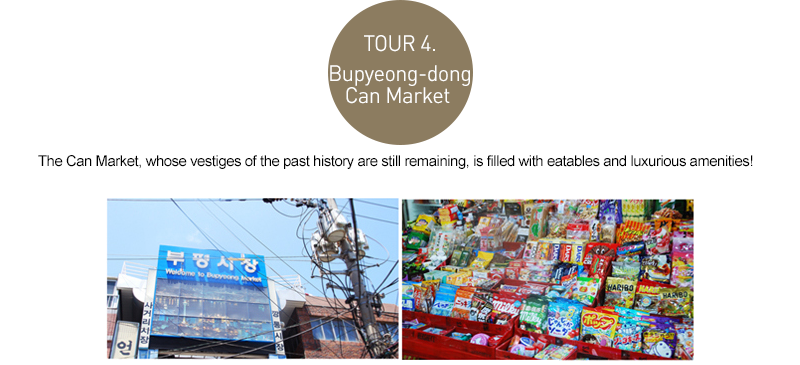 Pupyeong Market, which, people say, was the nation's first public market, is filled with eatables and amenities as much as its time. This market is rich in things worthy to taste, such as fried tofu bag, sweet red-bean porridge, cellophane noodles mixed with vegetables and red-pepper paste(bibimdangmyeon) , and Busan seafood fish cake, etc. Eating a considerable amount of one sort of food is off limits. Tasting a variety of things a little while seeing & feeling the lively atmosphere of the market is an essential method of enjoying Bupyeong Market to the fullest. After the Korean War, this market became famous as people sold the foreign-made articles from the American Army base. At that time, the main article on the market was canned food, from which the market name-Can Market was derived. Presumably for that reason, it's easy to be exposed to foreign articles at a lower price at this place. Just looking at the dappled foreign cookie make people mouthwatering and diverse relief supplies add to the joy of shopping. It might not be bad to head for trotters(jokbal) alley to taste refreshing, sweet-sour chilled- vegetable trotters after market-seeing and shopping for foreign-made articles.

Location 1-ga, Bupyeong-dong, Jung-gu, Busan Metropolitan City
Attractions Diverse foreign-made articles, Lively Market
Eatables Fried Tofu Bag, cellophane noodles, sweet red-bean porridge, Busan Fish Cake, Chilled-vegetable Trotters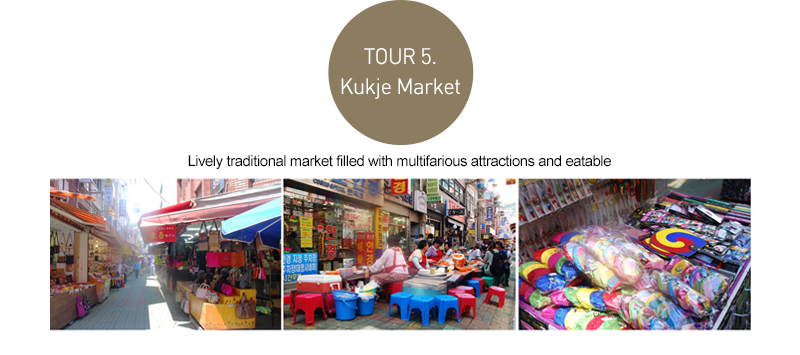 All things market which carries almost all things in the world-There is none which this market doesn't carry. Every alley carries all sorts of articles, such as clothing, bag, daily necessaries, tools, sundry goods, etc. Should a US Navy fleet is anchored at Busan Port, the American soldiers do shopping here for the necessary items for their military life. .
On top of that, it's possible to purchase diverse foreign brand relief supplies and fashion items at a lower price at the stores located at alleys. In the center of attractions and stores attracting shoppers, Chungmu gimbap, cellophane noodles, and flour-based food kiosk at the food alley feeling like mood of the marketplace are affectionate. Seeing that Busan is near the harbor and a village which foreign civilization frequented from old times, this market is unusual with the addition of exotic fragrance to the folksy market.
Location 4-ga, Shinchang-dong, Jung-gu, Busan Metropolitan City
Attractions Relief Supplies, Shopping Items
Eatables Chungmugimbap, cellophane noodles, Ant's nest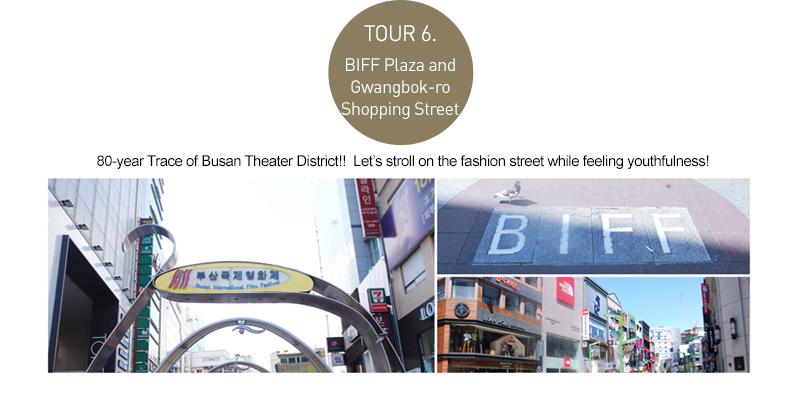 There are sculptures and movie-men's handprint in honor of the film festival in front of the Busan Movie Theater and Daeyoung movie theater which were the pivot of the Busan International Film Festival(BIFF). In front of these movie theaters, there is a cluster of kiosks which have become famous recently for carrying seed pancake, and people can identify the curious taste of it.
The Gwangbok-ro shopping street starting from BIFF Plaza is lined with popular brand stores, and good for shopping.
There are bakeries, coffee shops, restaurants, and clothing stores which are familiar to young people, so the Gwangbok-ro shopping street doesn't fall short of the appearance of the downtown.
Location Gwangbok-ro, Jung-gu, Busan Metropolitan City
Attractions BIFF Plaza, Handprints
Eatables Seed Pancake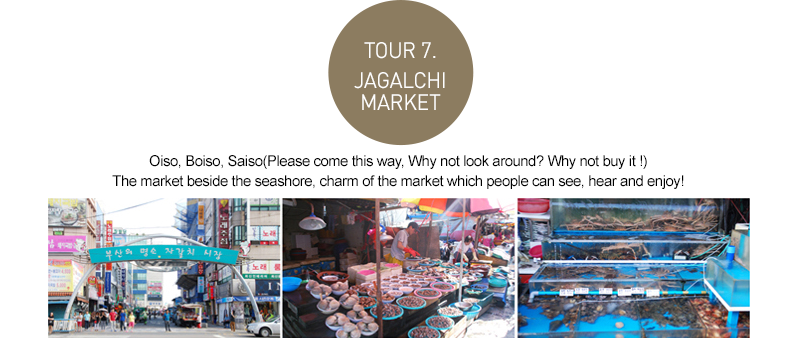 The Jagalchi Market whose name is derived from calling it a place of gravels because a field of gravels spread wide! This place, which the nation's biggest fish market, is rich in catch of fish by going out fishing from the south port and stays at the top level of freshness of fish. At this place people can buy diverse marine products like hair tail, cod and shellfish as fresh as they are, and people can have vivid fun eating raw fish immediately after directly picking out living fish keeping hopping at the Jagalchi Market Building and Shindongah Raw Fish Center. Why not feel attachment and vitality of the conventional market from the animated merchants and living marine products while hopping!
Location 37-1, 4-ga, Nampo-dong, Jung-gu, Busan Metropolitan City <!--[if !supportLineBreakNewLine]-->
<!--[endif]-->Attractions Panoramic View of the Fish Market
Eatables Jagalchi Market Marine Products, Baked Fish, Baked Sea Eel, Raw Fish
Tip Service Hours: 05:00 ~ 22:00 (Closed on Tuesday of the 2nd/4th week)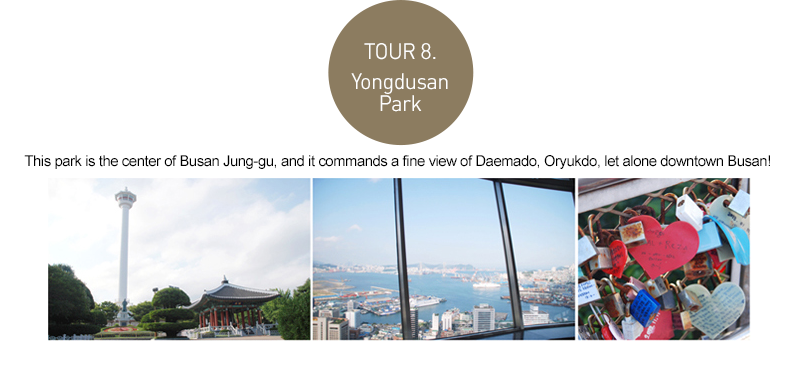 Its name was derived from a popular belief that the shape of Yongdusan resembles the head of a dragon which is soaring towards land from the sea, Yongdusan Park, which was developed at that place, has the Busan Tower, the statue of Admiral Yi, Sun-shi, and the octagonal pavilion as well. The seemingly secluded but vigorous atmosphere of the park is good for strolling and also feeling the vital force of Busan. The statue of Admiral Yi, Sun-shin, who stands heroically in the center of the park, seems to reveal the Admiral's dignified appearance all the more.
The place like Commodore(Navy Admiral) Hotel including the mercantile marine college in Busan also makes us meditate on the meaning of
Admiral Yi. One who looks down on the panoramic view of downtown Busan from the Busan Tower observation platform might feel more powerful vitality of Busan.

Location 1-2, 2-ga, Jung-gu, Gwangbok-dong, Busan Metropolitan City
Attractions Yongdusan Park, the Statue of Admiral Yi, Sun-shin, Octagonal Pavilion, Busan Tower Observatory
Tip Viewing Hours at the Observatory 09:00 ~ 22:00 (Open year-round)